Flood Factor™
Defining American's past, present, and future flood risk.
Flood Factor is a free online tool created by the nonprofit First Street Foundation that makes it easy for Americans to finally find their property's current and future risk of flooding, learn if it has flooded in the past, and understand how flood risks are changing because of the environment.
Flood Factor was created to make the most cutting edge flood science:
Available at the property level
First Street Foundation's mission is to quantify and communicate America's flood risk so anyone can find and understand their flood risk and make informed decisions for the future. By making flood risk data freely available for all, individuals and communities can prepare for and mitigate risks before they become a reality.
There is a growing need for flood risk data.
Flooding is the most expensive, natural disaster in the United States, costing over $1 trillion in inflation adjusted dollars since 1980.
Cumulative cost of natural disasters since 1980
All other natural disasters
*Combination of flooding and tropical cyclones. Includes wind damage from cyclones
Before Flood Factor, Americans had limited options to find their home's flood risk, and no way to determine how that risk would change over the duration of their home ownership. Flood risk was largely defined by the Federal Emergency Management Agency (FEMA) flood maps, which are used to define mortgage risks, build flood mitigation efforts, and set insurance rates and building and land use regulations.
Comparison of properties with known risk
8.7 million know they are at risk (FEMA identified)
14.6 million are actually at risk
Comparison of count of properties within a Special Flood Hazard Area as estimated by MassiveCert, Inc. versus those with 1% annual risk from the First Street Foundation Flood Model.
Although useful for some purposes, FEMA flood maps left individual homeowners wondering how flood risk impacts them directly. Finding a home's flood history was also difficult, as flood disclosure laws vary by state, and individual flood insurance claims are protected by privacy laws. All the while, environmental changes like higher sea levels and more intense rainstorms, driven by warming sea surface and atmospheric temperatures, have been increasing flood risks for millions of homes across the country.
Flood Factor data is the first of its kind.
The creation of Flood Factor required an unprecedented partnership of more than 80 world-renowned scientists, technologists and analysts working towards a unified goal: creating the First Street Foundation National Flood Model, the first publicly available, peer-reviewed model to consider changes in the environment and show how property-level flood risks change over time as a result.
The model calculates any location's probability of flooding from the four major flood types: rain, riverine, tidal events, and storm surge.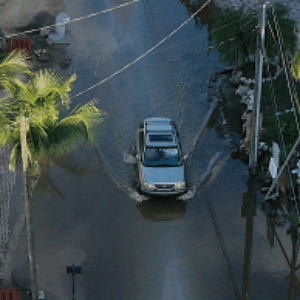 Tidal
King tides, Florida 2019.
Joe Raedl / Getty Images
Riverine
Union, Nebraska, 2019
Scott Olsen / Getty Images
Rain
Trop. Storm Imelda, Texas, 2019
Thomas B. Shea / Getty Images
Storm Surge
Hurricane Barry, Louisiana, 2019
Scott Olsen / Getty Images
The model further incorporates high-precision elevation data and local adaptation measures like seawalls and levees into its flood projections, validates against modeled historic floods, and then analyzes and maps the combined flood risk.
Toledo, Ohio: Past flood in 2015, current 1 in 500 year flood, and 1 in 500 year flood in 30 years. Basemap imagery © Mapbox
By projecting different environmental scenarios, scientists are able to model how flood risks will change in the future. The result: past, present, and future flood risks for more than 142 million properties across the United States.
Making flood risk available for all.
As sea levels continue to rise, sea surface temperatures continue to increase, and the atmosphere continues to warm, floods will increase in both frequency and severity. Without free access to accurate flood information, more Americans will unknowingly be at risk from the nation's costliest natural disaster.
First Street Foundation created Flood Factor because it supports scientific collaboration and data transparency, and believes in making its peer-reviewed research available and accessible to all. Flood Factor simplifies flooding so every American can find their risk, understand the science, and make informed decisions to prepare for the future.
How will flood risks change over time?
More than 21.8 million properties are already at risk of flooding this year. Because of changes in the environment, 1.7 million more properties will be at risk in just 30 years.