Flood Factor®
Defining American's past, present, and future flood risk.
Flood Factor is a free online tool created by the nonprofit First Street Foundation that makes it easy for Americans to find their property's risk of flooding and understand how flood risks are changing because of a changing environment.
Flood Factor was created to make the most cutting edge flood science:
Available at the property level
First Street Foundation aims to quantify and communicate America's flood risk. By making flood risk data freely available for all, individuals and communities can prepare for and mitigate risks before they become a reality.
There is a growing need for flood risk data.
Flooding is the most expensive, natural disaster in the United States, costing over $1 trillion in inflation adjusted dollars since 1980.
Before Flood Factor, many Americans had limited options to find a home's flood risk, and no way to determine how that risk would change over the duration of their home ownership. Finding a home's flood history could be difficult, as flood disclosure laws vary by state, and individual flood insurance claims are protected by privacy laws. Flood risk was largely defined by the Federal Emergency Management Agency (FEMA) flood maps, which are used to define mortgage risks, set insurance rates, and establish building and land use regulations.
Cumulative cost of natural disasters since 1980
All other natural disasters
*Combination of flooding and tropical cyclones. Includes wind damage from cyclones
FEMA flood maps identify over 1.1 million miles of flood hazard areas, and while the maps can provide detailed information for homeowners on their flood risks, they are not available everywhere. Flood Factor's national flood model shows that flood risk is more widespread in the United States, with over 25 million properties at risk over the next 30 years. Flood Factor also includes flood risk from urban stormwater flooding, storm surge and future conditions like sea level rise.
Comparison of properties with known risk
8.6 million FEMA identified
16.1 million Flood Factor identified
Comparison of count of properties within a Special Flood Hazard Area as estimated by MassiveCert, Inc. versus those with 1% annual risk from the First Street Foundation Flood Model.
Flood factor is most powerful when used in conjunction with the FEMA flood maps and other available state and local flood risk resources. Flood Factor should be viewed as complementary to the adopted FEMA flood maps for a community, which need to be used for building and permitting purposes.
Flood Factor allows individuals to easily view the model's flood risk information at the property level, and provides useful information on potential actions to mitigate flood risk. More information on the community's flood maps and mitigation plans, however, can be best obtained by contacting the community's floodplain manager.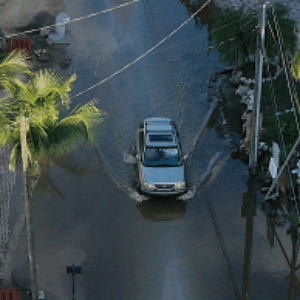 Tidal
King tides, Florida 2019.
Joe Raedl / Getty Images
Riverine
Union, Nebraska, 2019
Scott Olsen / Getty Images
Rain
Trop. Storm Imelda, Texas, 2019
Thomas B. Shea / Getty Images
Storm Surge
Hurricane Barry, Louisiana, 2019
Scott Olsen / Getty Images
The model further incorporates high-precision elevation data and local adaptation measures like seawalls and levees into its flood projections, validates against modeled historic floods, and then analyzes and maps the combined flood risk.
Toledo, Ohio: Past flood in 2015, current 1 in 500 year flood, and 1 in 500 year flood in 30 years. Basemap imagery © Mapbox
By projecting different environmental scenarios, scientists are able to model how flood risks will change in the future. The result: past, present, and future flood risks for more than 142 million properties across the United States.
Making flood risk available for all.
As sea levels continue to rise, sea surface temperatures continue to increase, and the atmosphere continues to warm, floods will increase in both frequency and severity. Without free access to accurate flood information, more Americans will unknowingly be at risk from the nation's costliest natural disaster.
First Street Foundation supports scientific collaboration and data transparency, and created Flood Factor to make its peer-reviewed research on these risks freely available to all. Flood Factor simplifies flooding so every American can find their risk, understand the science, and make informed decisions to prepare for the future.
How will flood risks change over time?
More than 23.7 million properties are already at risk of flooding this year. Because of changes in the environment, 1.7 million more properties will be at risk in just 30 years.