Summary
Flood risk overview for 19507
There are 91 properties in 19507 that have greater than a 26% chance of being severely affected by flooding over the next 30 years. This represents 5% of all properties in the ZIP code.

In addition to damage on properties, flooding can also cut off access to utilities, emergency services, transportation, and may impact the overall economic well-being of an area. Overall, 19507 has a minor risk of flooding over the next 30 years, which means flooding is likely to impact day to day life within the community.
Explore the maps below to learn more about the homes, roads, businesses, and services at risk in 19507.
Current Protections
There are solutions to protect 19507
Although flood risk can never be completely eliminated, communities that adapt to higher flood risks can limit flood damage and lower flood insurance costs. Learn more about solutions.
0
Known adaptation measures 
i
0
Properties protected by adaptation 
i
Where to Start
Lowering flood risk starts with higher standards
Some places plan to a higher standard (a "500 year" standard) that lowers the number of properties at severe risk. Protecting homes to this level would reduce the risk to the 91 severely affected properties by 77%.
| | % chanceof floodingin a given year | % chanceof floodingover 30 years |
| --- | --- | --- |
| | | |
| | | |
Flood Risk Explorer
Flood risks vary by depth and likelihood.
Deeper floods from major events, like hurricanes, are less likely to occur, but cause greater damage than more shallow flood events, like heavy rains.
Select a projected flood risk:
More likely to occur
More properties impacted
Approx. properties have a 0.2% chance of some amount of water reaching their building in 2022.
Approx. properties have a 0.2% chance of some amount of water reaching their building in 2022.
Community Solutions
Solutions can protect 19507.
Individuals, mayors, governors, and Congress can work together to build protections before flooding, build back stronger after flooding, and create plans that future-proof communities. Learn more about solutions.
Green infrastructure is a cost-effective and sustainable flood management approach that gathers and removes water at its source.
Open Spaces

By providing space for managed flooding, communities can reduce the flood risks for homes and businesses. These spaces can include cemeteries, golf courses, and parks.

Marshes and Wetlands

Restoring or constructing new marsh or wetlands provides areas for water to be stored, therefore reducing flooding.

Rain Gardens and Bioswales

Rain gardens reduce flash flooding by collecting rainwater and allowing time for the water to be absorbed or carried away. Bioswales are larger but functionally similar, and usually a part of a larger stormwater drainage system.

Beach Dunes and Renourishment

Beaches and dunes work as natural walls to reduce the impact of storm surges. Adding sand to make beaches bigger helps limit coastal erosion and protect communities from flooding.

Natural Barriers

Restoring and building up natural infrastructure such as barrier islands, oyster and coral reefs, mangroves, seagrass, and salt marshes is a cost-effective and eco-friendly way to reduce flood risks.
Environmental Changes
Flood risks are increasing because of the environment.
A changing environment means higher seas, new weather patterns, and stronger storms. As the atmosphere warms, there is more evaporation and more water available when it rains.
A warmer atmosphere also means warmer oceans, which can intensify flooding from hurricanes and offshore storms. Sea level rise also increases coastal flood risks, as higher seas mean there's more water available when high tides and coastal storms cause flooding.
Learn more about the environmental factors increasing flood risk.
Select year of projection
Change in extreme rain events compared to 1980-2010 average. i
Source: NASA Earth Exchange Global Daily Downscaled Projections (NEX-GDDP).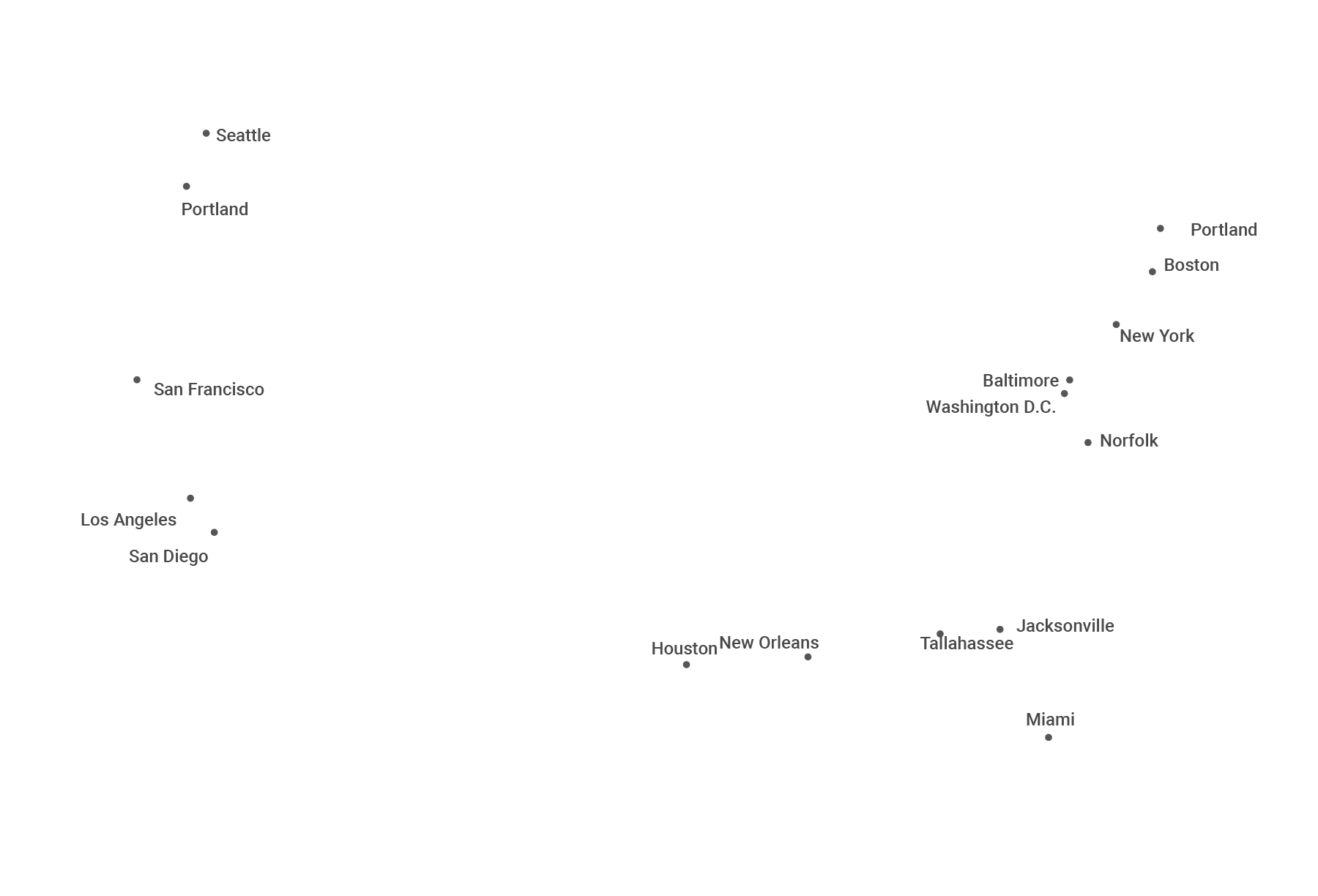 Rise in inches, compared to 1980-2010 average. i
+5 in.
Place with highest sea level rise (inches)
| | |
| --- | --- |
| 14.4 | Grand Isle, LA |
| 10.3 | Galveston Pier 21, TX |
| 9.4 | Ocean City Inlet, MD |
| 9.1 | New Canal Station, LA |
| 8.7 | Lewisetta, VA |
Source: Kopp et al, 2017. Evolving Understanding of Antarctic Ice‐Sheet Physics and Ambiguity in Probabilistic Sea‐Level Projections.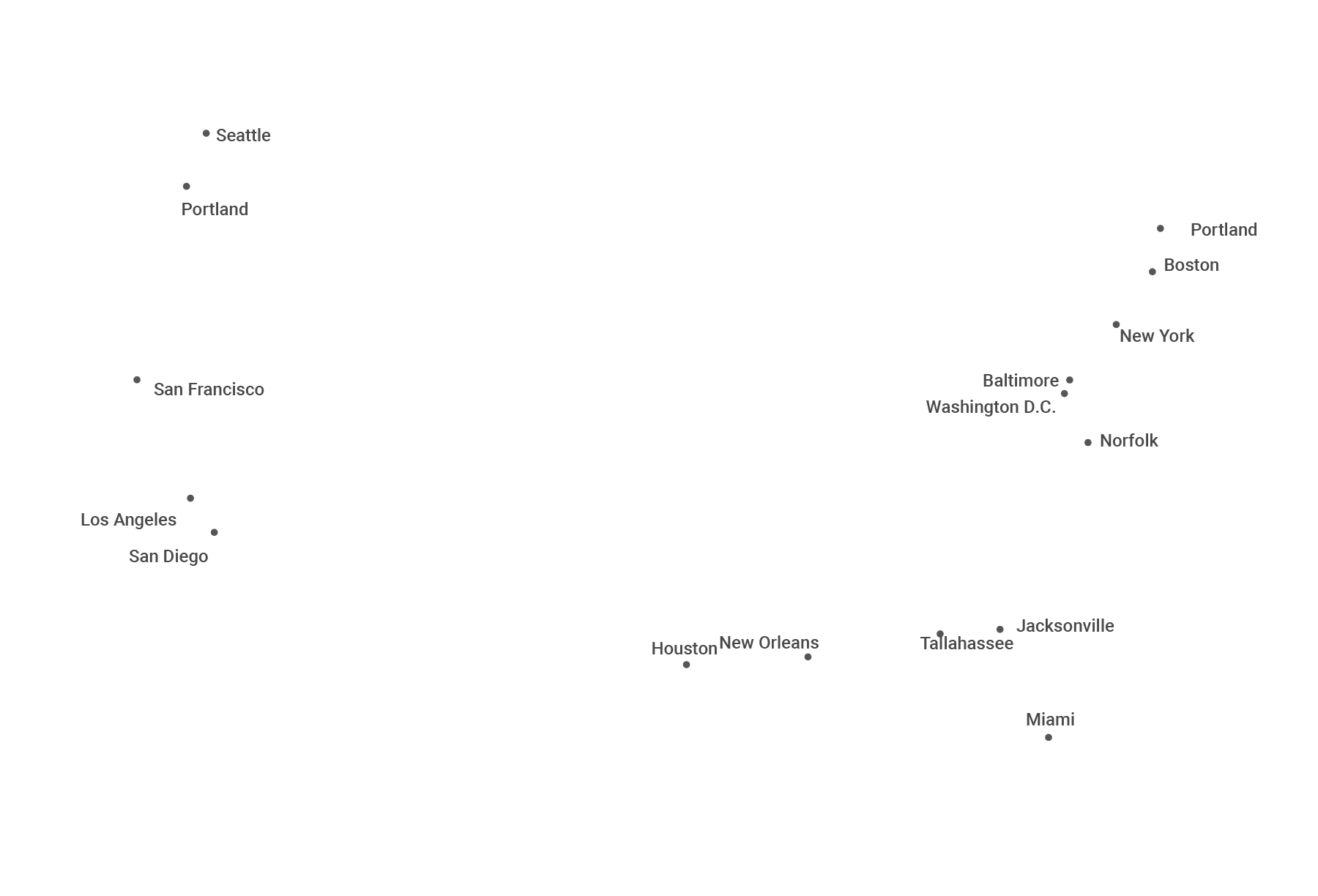 Temperatures in degrees Fahrenheit. Increase in comparison to the 1980-2010 average. i
Source: NOAA National Data Buoy Center and Schmidt et al, 2014., Configuration and assessment of the GISS ModelE2 contributions to the CMIP5 archive.
Find your home's Flood Factor
Past floods, current risks, and future projections based on peer-reviewed research from the world's leading flood modelers.