Why flood risks are increasing
A changing environment means higher seas, new weather patterns, and stronger storms.
Changes in the environment have already increased flooding across the United States, particularly in coastal and low-lying areas. As these trends continue into the future, 1.7 million more American properties will be at risk, and the damage and cost of flooding will continue to add up.
Extreme rain events are increasing.
As the atmosphere warms, there is more evaporation and more water available for rain, which contributes to changing weather patterns and flood risks. Extreme rain events are increasing in duration, intensity, and frequency, which causes more urban and flash floods, and more flooding from overflowing rivers and streams.
Select year of projection:
Change in extreme rain events compared to 1980-2010 average. i
Source: NASA Earth Exchange Global Daily Downscaled Projections (NEX-GDDP).
The impact of extreme rain
The Midwestern Floods of 2019 affected nearly 14 million people across 13 states, causing $6.2 billion dollars in damages.1 The floods occurred during the wettest 12-month period ever recorded,2 and were exacerbated by heavy and frequent rains that caused the Missouri River and Mississippi River to set new record levels in 42 different location.3
Within a 22 month period between 20164 and 20185, Elliott City Maryland saw two extreme rainfall events that caused flash floods, as the grounds were unable to absorb the sudden, high-volume of rain that fell within hours. Each event had a 0.1-0.2% chance of occurring in a given year.6
Floodwater from the Mississippi River cuts off the roadway from Missouri into Illinois at the states' border on May 30, 2019 in Saint Mary, Missouri.
Scott Olsen / Getty Images
Sea levels are rising
Most of America's coast is experiencing rising seas caused by global ice melt, thermal expansion, changes in ocean circulation, and local land sinkage. Sea level rise makes hight tides higher, which puts more pressure on coastal drainage systems an increases tidal flood risks. Higher seas also lead to higher storm surge from hurricanes and other storms, resulting in deeper flood that travel farther and last longer.
Select year of projection: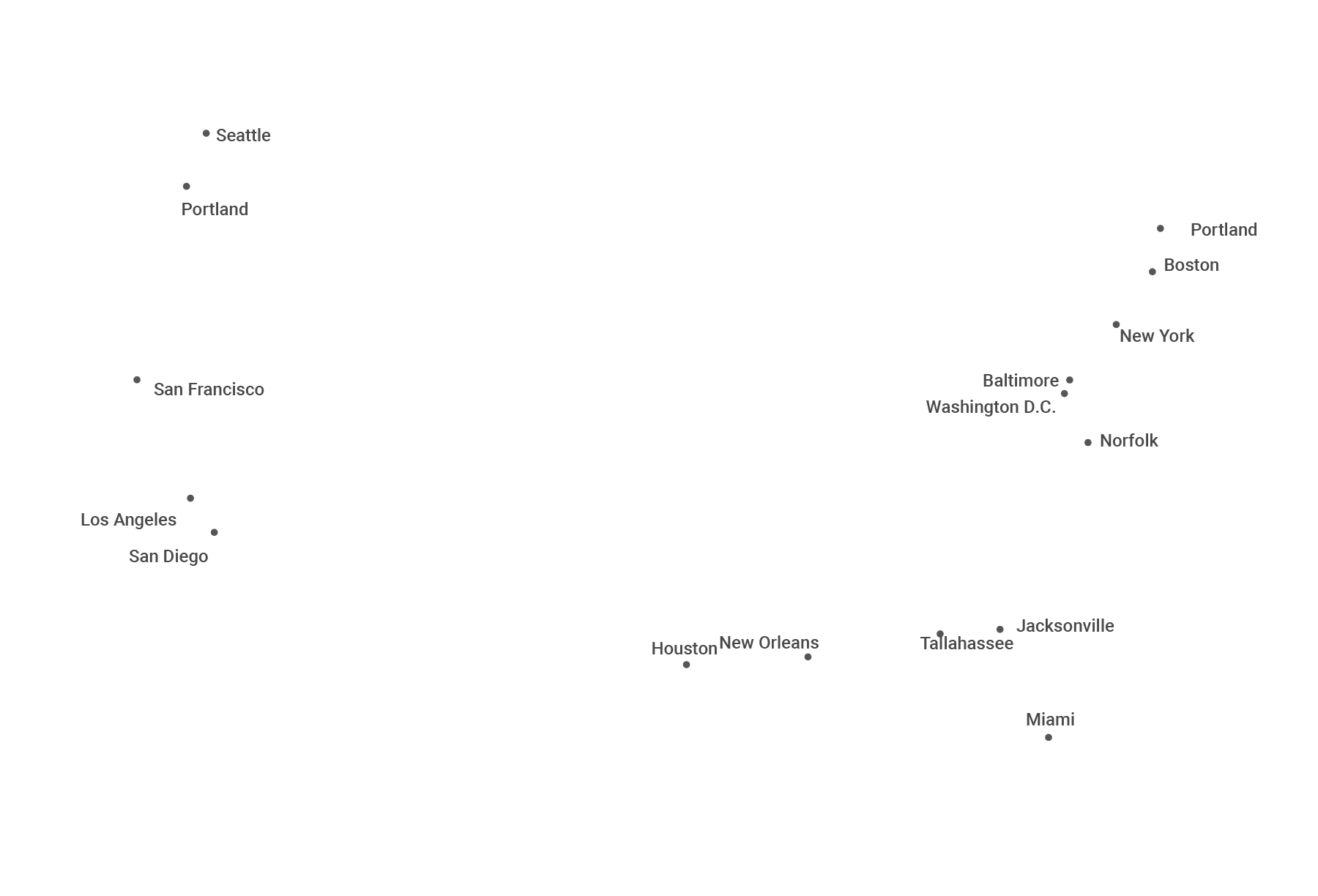 Rise in inches, compared to the 1980-2010 average. i
+5 in.
Place with highest sea level rise (inches)
| | |
| --- | --- |
| 14.4 | Grand Isle, LA |
| 10.3 | Galveston Pier 21, TX |
| 9.4 | Ocean City Inlet, MD |
| 9.1 | New Canal Station, LA |
| 8.7 | Lewisetta, VA |
Source: Kopp et al, 2017. Evolving Understanding of Antarctic Ice‐Sheet Physics and Ambiguity in Probabilistic Sea‐Level Projections.
The impact of higher seas
When Hurricane Katrina hit in 2005, its 27.8 foot storm surge toppled New Orleans' levees caused massive flooding; the storm ultimately claimed 1833 lives and caused more than $105 billion in damages.7 Scientists estimate that its storm surge and flooding was 15-60 percent higher than it would have been in 1900, when local sea levels were 2.4 feet lower.8
Sea level rise similarly contributed to Hurricane Sandy's storm surge in 2012 and Hurricane Irma in 2017. Researchers estimate that higher seas were responsible for Hurricane Sandy's storm surge affecting 11.4% more people in New York City, adding approximately $2 billion more in damage.9 First Street Foundation likewise found that sea level rise since 1970 contributed to approximately 57,000 more homes being impacted by Hurricane Irma's storm surge.10
Many coastal areas are seeing floods more often even when there are no storms, as local sea levels increase the number of "sunny" day floods caused by high tides. There are now over 40 locations in the U.S. with accelerating high tide flooding trends, including Washington D.C. which saw 22 days with hight tide floods in 2018.11
King tide level waters combined with earlier storms and other factors has forced water onto the streets in parts of the Florida Keys, which will likely see increased flooding as sea levels continue to rise.
Joe Raedle / Getty Images
Sea surfaces are getting warmer.
A warmer atmosphere also means warmer oceans. The sea's surface temperature is 1.5˚F warmer than it was in 1950 and will rise another 0.5˚F by 2050. Higher ocean surface temperatures fuel hurricanes and offshore storms with more water and power, so these systems reach further inland and further north, are more intense, and last longer.
Select year of projection: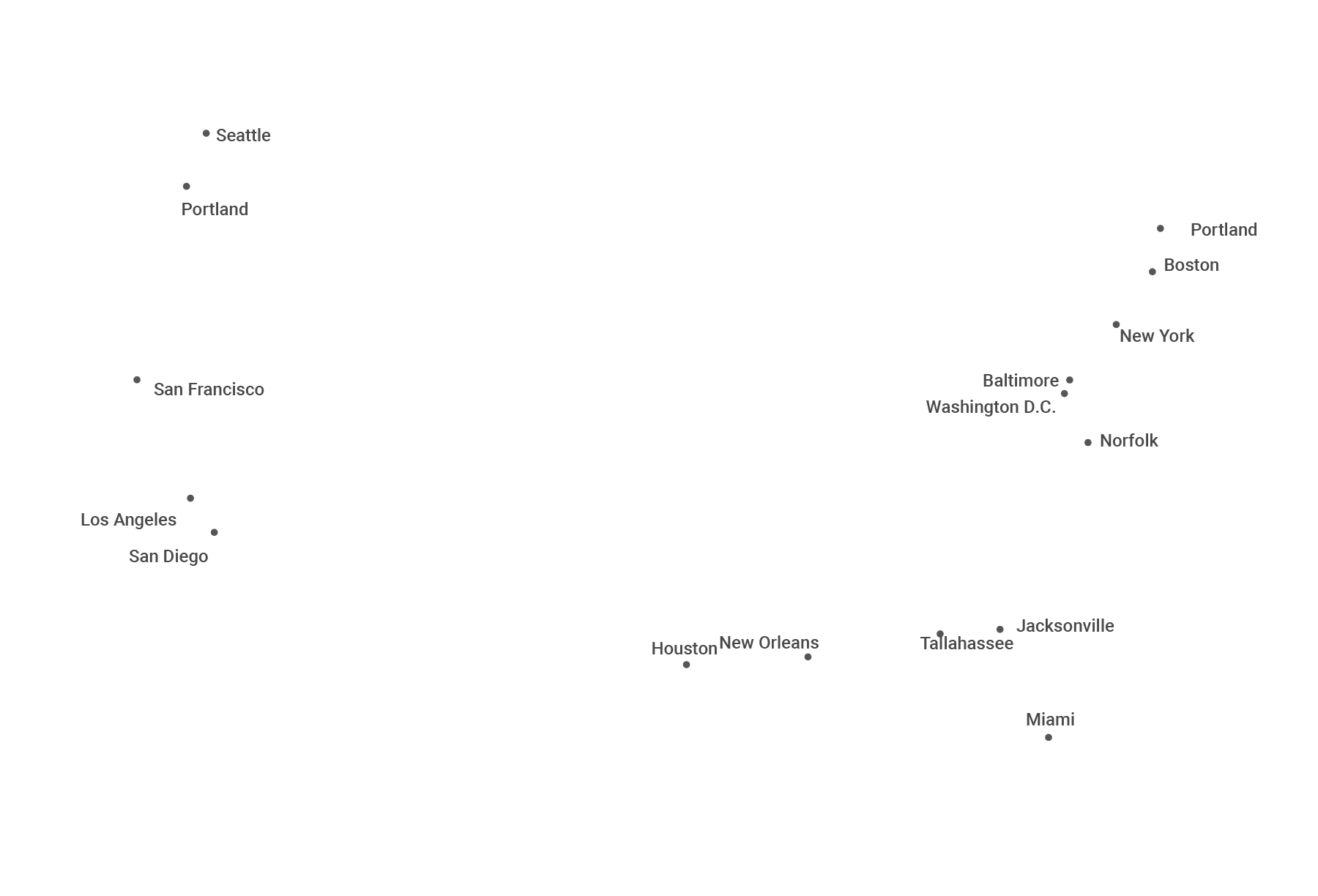 Temperatures in degrees Fahrenheit. Increase in comparison to the 1980-2010 average. i
Source: NOAA National Data Buoy Center and Schmidt et al, 2014., Configuration and assessment of the GISS ModelE2 contributions to the CMIP5 archive.
The impact of warmer seas
When Hurricane Harvey hit Houston in 2017 the Gulf of Mexico was experiencing record-breaking ocean temperatures, reaching upwards of 86 F.12 The warm waters both sustained and intensified the storm, feeling it with enough moisture to produce up to 60.58 inches of rainfall in some areas, and lasting over 4 days, making Hurricane Harvey the country's wettest tropical cyclone ever recorded.13
Warmer ocean atmospheric temperatures also played a strong role in Hurricane Dorian's slow movement in 2019, when it stalled over the Bahamas for more than a day and at one point slowed to just 1.2 miles per hour.14 The duration of the storm and warm ocean temperatures contributed to significant rainfall, totalling 36 inches.15
A road is covered by floodwater left in the wake of Hurricane and Tropical Storm Harvey on August 31, 2017 near Houston, Texas.
Scott Olsen / Getty Images
Additional factors increasing risk
Non-environmental factors like development patterns and structural failures of dams and levees are also exacerbating flood risks. Expanded development in coastal areas and floodplains simultaneously puts more people and community assets at risk, increases the amount of impervious (non-absorbent) surfaces like concrete, and destroys natural flood protections like wetlands. Flood control measures like levees, seawalls, gates, and pumps also pose a serious threat if not regularly maintained and upgraded.
An overflowing levee is seen near Lake Providence, Louisiana May 18, 2011.
Reuters / Eric Thayer - stock.adobe.com
How does Flood Factor incorporate changing flood risks?
The data on Flood Factor includes all major flood types, and considers how each will uniquely shift in the future from changing environmental factors.
What can be done to stop flooding?
Although flood risk can never be completely eliminated, there are a wide range of flood protection measures that reduce risk.